| | |
| --- | --- |
| Posted on August 29, 2014 at 4:30 PM | |
By Naomi Richard
August 28, 2014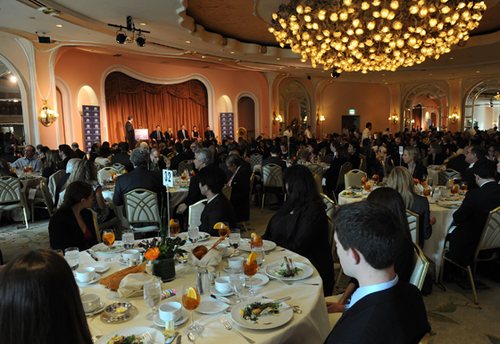 Entertainment Law has become such a hot topic, that The Recording Academy sponsors an annual high-profile luncheon on the subject during Grammy® Award Week. (Photo courtesy of Naomi Richard)
Many artists, especially independent artists, fail to see the importance of hiring an entertainment lawyer. Some of you may feel that it is not in your budget or that it's not a priority. Hiring an entertainment lawyer is of utmost importance, and should be in your initial budget just like studio costs, voice lessons, modeling lessons, production fees, artwork, etc. An entertainment lawyer is an investment in your dream. There is no replacement for doing it right the first time, and hiring a lawyer up front can save you substantial costs and significant aggravation later.
I sat down with Deborah E. Johnson, a seasoned attorney in the Dallas area for the Law Office of Deborah E. Johnson, Esq. Her practice primarily focuses on music and entertainment law issues, dealing heavily in transactional law, contract review and negotiations, and artist representation and limited management roles. Johnson's clientele currently includes vocal artists, musicians, producers, actors/actresses, and models to name a few.
We recently spoke with Johnson, referred to as DEJ, about these pressing issues. Let's see what she has to say about entertainment law and what it can do for you.
Naomi Richard: What services are provided by an entertainment lawyer?
Deborah E. Johnson: Protection and preservation of intellectual property.
Assist artists with negotiations and contract review, Assist with copyright laws.
Provide guidance with Performing Rights' Organizations (PRO) and the Digital Performance Right in Sound Recordings Act.
Make sure you're protected domestically and internationally.
Ensure proper organizational structure.
Assist with branding and trademarking.
Resolve legal conflicts.
Review Song Split Sheet Agreements.
NR: Who needs an entertainment lawyer?
DEJ: Singers, dancers, actors/actresses, models, musicians, producers, bands, photographers, writers and filmmakers.
NR: Can you share with us the estimated cost to retain an entertainment lawyer?
DEJ: On average the cost is $200-400 per hour, however, some services can be provided for a nominal flat fee.
NR: Do you have a standard list of questions to ask a potential entertainment lawyer?
DEJ: Have you worked in the entertainment industry before?
Who are some of your clients and what type of entertainment do they provide?
Have you successfully recovered royalties?
Have you worked with movie companies or record labels?
Do you have experience with the major PRO's?
Is this person well known in the industry?
NR: Let's say I've been acting in local films, and I've already written a few songs. Is it too late to hire an entertainment lawyer?
DEJ: It's never too late to hire an attorney. I like to be involved in the process from the beginning so that I am not playing catch up. Many clients hire lawyers after a firestorm is brewing. Most of these issues could have been avoided if the lawyer was retained early on. It definitely costs more to come in and fix issues that could have performed correctly from the start.
NR: Suppose I wrote a song, recorded it with friends from church and put it on YouTube. I'm waiting for it to go viral or be seen by a major music label. Do I need a lawyer now or can I wait until I hit it big?
DEJ: You don't need a lawyer now, but if a music label contacts you, you should contact an entertainment lawyer immediately. Additionally, before you post something on YouTube, research any rules, laws, or regulations that might affect your posting. Some music falls within the public domain, and requires no additional approval. However, covering another artist's song may sometimes require a mechanical license. If your video is in question, you should contact a lawyer to find out what is and is not allowed, given the current laws and the particular website. The court system is still attempting to catch up with technology; therefore, some issues have not yet been fleshed out.
NR: What would you say if while at the mall shopping, a modeling agency saw me and wanted to put me on a runway immediately. They said they would pay me $500 in cash at the fashion show. Any concerns?
DEJ: Yes, I would be concerned. I always advise clients to never do anything without a contract and to never sign a contract without a lawyer. What exactly is the $500 paying for? If someone wants to hire you immediately, and they are a legitimate modeling company, they should provide some type of Work-for-Hire contract and/or Release right there on the spot. Typically, either of those documents gives the modeling agency full license to use your image over and over without compensating you in the future. If you are okay with that and feel this is your big break, go for it! If not, decline the offer and continue to pursue well known modeling agencies that will compensate you for your work. It's all up to you.
NR: What if, for example, I'm a songwriter and producer. Can I get double royalties?
DEJ: Songwriter and producer royalties should be determined early in the recording process. If you are producer and a songwriter, it is possible that you may receive double royalties, based on your production agreement with the artist, any publishing agreements you may have with the artist and/or the record label, along with in-studio verbal agreements that can be reflected and delineated in song split sheets.
NR: Let's say I went to a seminar and copyright laws seem pretty straightforward. I feel comfortable with a 'poor man's copyright.' Should I proceed?
DEJ: I do not recommend using the 'poor man's copyright' method because you will not receive those additional protections set in place under federal law when a work is registered with the U.S. Copyright Office. Once a piece of music has been created, the creator should seek to register the work with the copyright office as soon as possible. This is fairly inexpensive and well worth the money.
NR: SoundExchange is just another PRO like BMI, ASCAP and SESAC right?
DEJ: SoundExchange is a non-profit Performing Rights Organization, designed to track the streaming of artist content. In short, SoundExchange tracks and pays out to artists on digital performance royalties. They collect and distribute those royalties back to the artist when the content is played on a non-interactive digital source. Below is a list of the benefits to joining Sound Exchange:
Maximize your revenue through foreign royalty collections.
Join the effort to fight for long-term value of music.
Conference and equipment discounts.
Distributes the featured artist's share directly to the artist.
Distributes the Sound Recording Copyright Owners' share directly to the copyright owner.
In summary, take the time to establish yourself correctly from the beginning. Join networking groups in your area, attend industry conferences and retain an entertainment lawyer.
Categories: None